Brief

in 2014 I was asked to work on this project: a platform for african artists, where they can share their work, gather information on how to promote it, building community and so on.
The name was defined: Africartist.tv, quite natural choice, nice sounding and clear, with that ".tv" added to stress the strong orientation towards video contents.
My role consisted in
designing the graphic identity
, and
building an MVP
for the platform itself.
Research

Research started from an overview of african graphic and artistic styles, from traditional painting and sculpture, to commercial signage and labels trends, crossing music, fashion and pop culture.
Immediately we realized that the result had to be something able to
fit the african context, and not resembling a stereotypical vision of that context
, the risk of making something too "white" was high.
After a few attempts, an inspiration that immediately felt like the right path to follow was Afrofuturism. A sub-culture originated by african diaspora in the US around the mid-70s. 
Merging space fascination with african roots and tradition, artists like Sun Ra, Africa Bambataa, Herbie Hancock and others, started writing music and creating a visual language that had a focus on Africa as both the cradle of humanity and the future of it, talking about a soon to come return to greatness of african people.

Trippin into Afrofuturism

What opened in front of me was an incredibly interesting scenario that had developed in parallel with the cultural world i have been exposed, with a greatly varied influence, crossing multiple music genre, sometimes colliding with western cultural mainstream (take the space fascination depicted by Pink Floyd in their early works, for example) and that continues nowadays having become a "classic" of african pop culture, and showing contemporary declinations in music (Flying Lotus, Fhloston Paradigm, Africa Hitech…), movies, fashion and so on.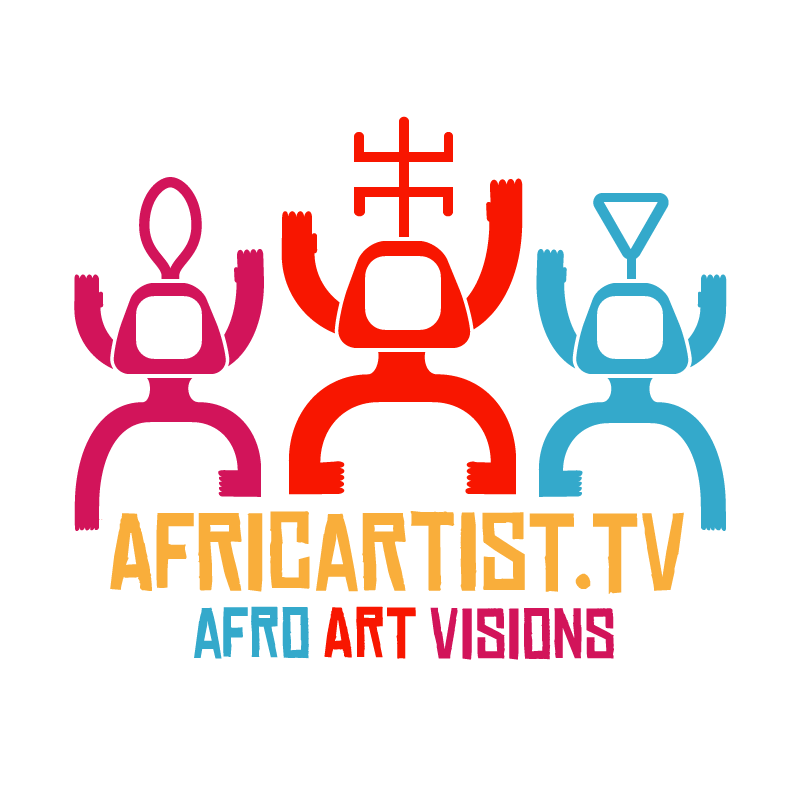 Logo

From a series of iconic afro-futuristic images, we proceeded by synthesis to try different subjects for the logo, keeping the idea of a "person" or at least an entity to symbolize the artist identity to be central in the platform structure.

We later set on a "TV-head man", with a prominent antenna on the head, to depict the effort into finding a connection between tradition and future development. The result is balanced but with movement and "instability inside", it is drawn with a primitive but geometrical stroke, having three tv-heads in the logo to combine individual identity with the one of community, and putting them almost "in formation" showing unity (Umoja) and the determination towards a common goal.
Website

Colors and basic UI went along the general trends of african "maximalism": bright saturated colors on high contrasting backgrounds, blocky fonts, enlarged proportions.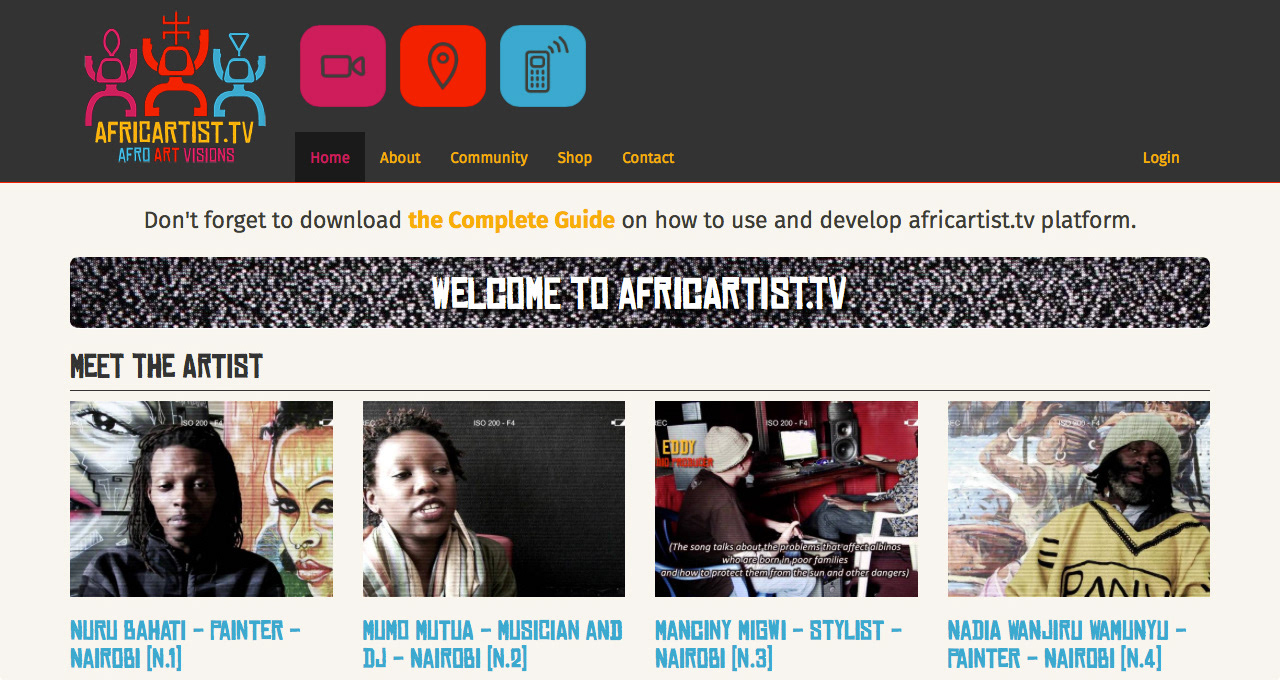 The main structure of the site revolves around three main sections:
- Videos, where you find artist stories, tips & tutorials, and user submitted contents.
- Community, where users can find and share useful information, events, locations, stay updated and get in touch with other members.
- Map, to see at a glance what's going on in your area.

Current status of the project

At the moment the project is idle, looking for fundings to continue the promotion of the platform, its development, and increase the collaboration with the artists.
you can see a working version
here
.